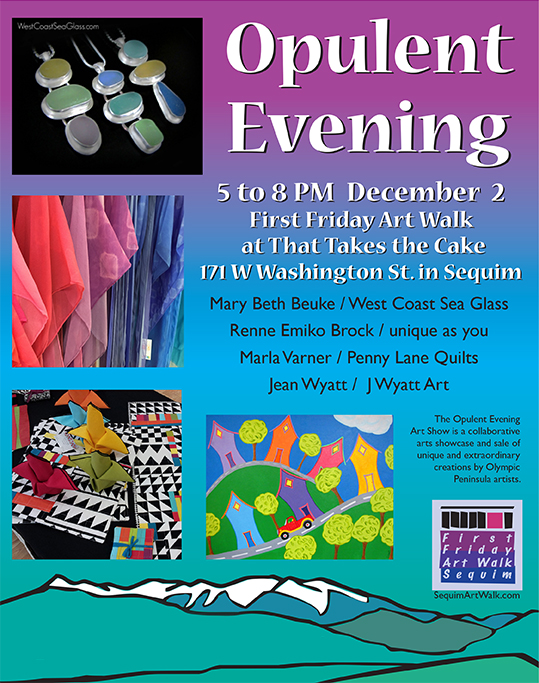 Opulent Art Evening during Dec 2 First Friday Art Walk Sequim
Join us for an Opulent Art Evening Art Show 5 to 8 PM on December 2 during the First Friday Art Walk Sequim at That Takes the Cake at 171 W Washington St.
The Opulent Evening Art Show is a collaborative arts showcase and sale of unique and extraordinary creations by Olympic Peninsula artists. Discover quality treasures and gifts of various media from featured artists Mary Beth Beuke / West Coast Sea Glass, Renne Emiko Brock / hue are you?, Marla Varner / Penny Lane Quilts, and Jean Wyatt / J Wyatt Art.
During the Dec 5th First Friday Art Walk Sequim, experience an Opulent Evening out exploring exceptional art in Sequim and discover quality treasures of various media of Mary Beth Beuke of West Coast Sea Glass, Renne Emiko Brock-Richmond of unique as you, and Jean Wyatt of J Wyatt Art at this collaborative arts sale at Sunshine Café at 145 W Washington St. Sequim WA.
Engage with the artists directly at this special event produced by Burning Down the House Creative Collective that is a local group of art businesses dedicated to encouraging education, positive professionalism, and creating inclusive opportunities and comradely.
Special "Ultimate Guide to Sea Glass" book signing with Mary Beth that evening!