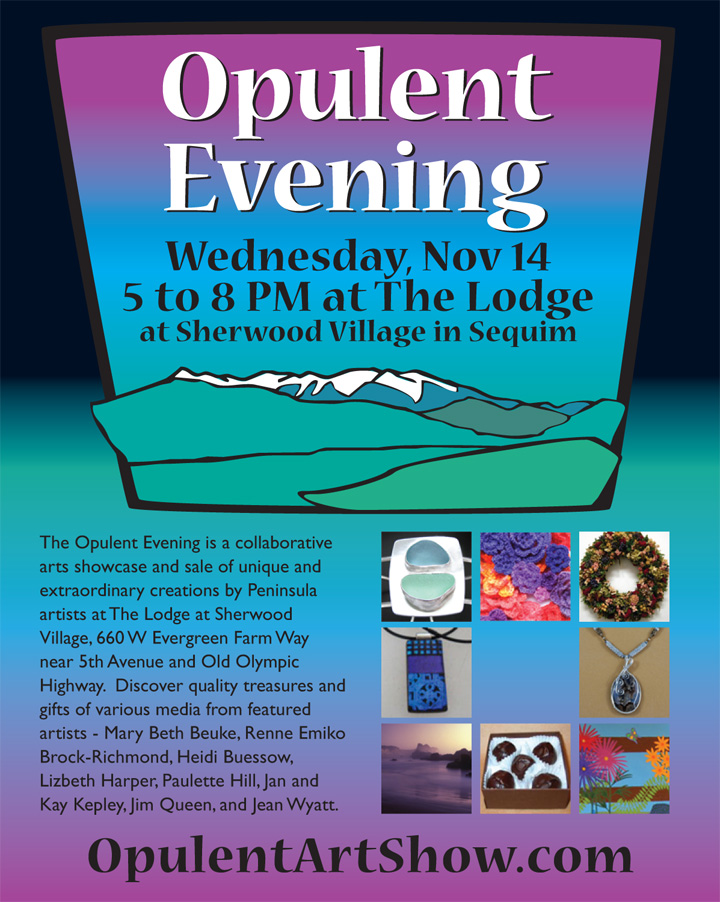 Opulent Evening
Wednesday, November 14
5:00 – 8:00 p.m.
The Lodge at Sherwood Village, 660 W Evergreen Farm Way
near 5th Avenue and Old Olympic Highway
The Opulent Evening is a showcase and sale of unique, artful creations by Peninsula artists at The Lodge at Sherwood Village. Discover quality treasures and gifts of various media including fiber arts, glass, jewelry, painting, mixed media, photography, and more. Find one-of-a-kind presents or something extraordinary for yourself at this collaborative arts sale. Have fun exploring with your friends or purchase just the right gifts for them created by local artists. Please visit with Mary Beth Beuke of West Coast Sea Glass, Chocolate Serenade, Heidi Marie, Natural Light Photography, J Wyatt Art, Lizbeth Harper, Paulette's by Design, and Renne Emiko Brock-Richmond of unique as you.
Engage with the artists directly at this special event produced by unique as you and Burning Down the House Creative Collective that is a local group of art businesses dedicated to encouraging education, positive professionalism, and creating inclusive opportunities and comradely. Experience an Opulent Evening out exploring exceptional art in Sequim.