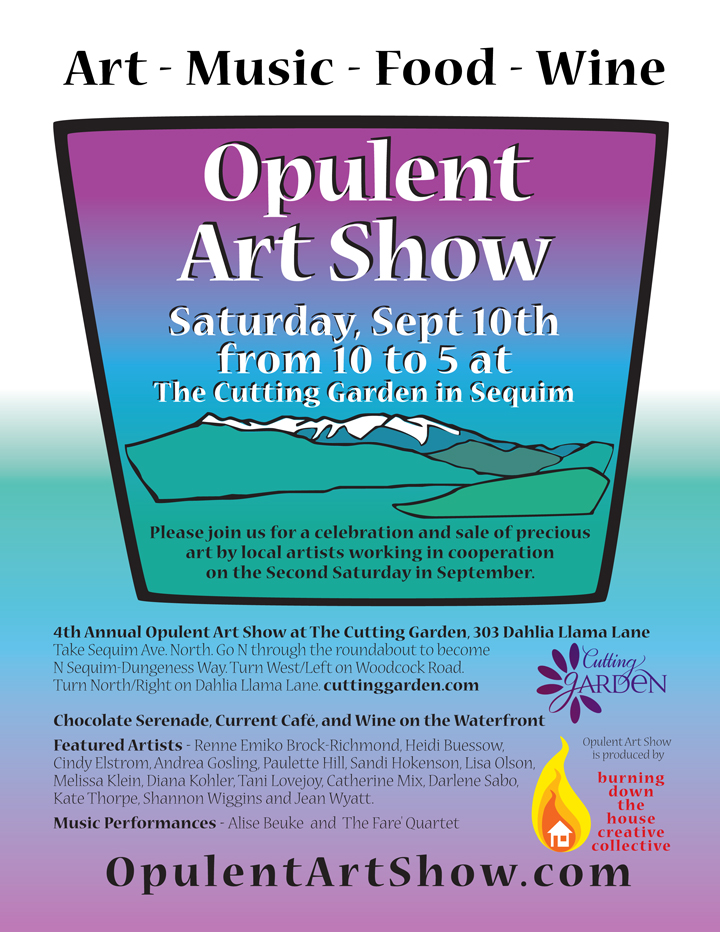 Art – Music – Food – Wine
Fourth Annual Opulent Art Show
Saturday, September 10, 2011 10:00 AM – 5:00 PM
The Cutting Garden located at 303 Dahlia Llama Lane, Sequim, Washington
Please join us for a celebration and sale of precious art by local artists working in cooperation on the Second Saturday in September.
The Opulent Art Show at The Cutting Garden will feature Olympic Peninsula artists of several media including painting, photography, jewelry, glass, mixed media, fiber arts, and music. This special art event is 10 a.m. to 5 p.m. and is free to the public. Spend a splendid outing enjoying the gardens, fine wine and amazing food with live music, and an opportunity to meet local artist selling their wares and sharing their passion for creativity and comradely.
2011 Featured Artists include Renne Emiko Brock-Richmond, Heidi Buessow, Cindy Elstrom, Andrea Gosling, Paulette Hill, Sandi Hokenson, Lisa Olson, Melissa Klein, Diana Kohler, Tani Lovejoy, Catherine Mix, Darlene Sabo, Kate Thorpe, Shannon Wiggins and Jean Wyatt.
2011 Featured Music includes The Fare' Quartet that consisting of Deborah Morgan-Ellis, Phil Morgan-Ellis, Gay Knutson, and Chantel Law and talented vocalist and composer Alise Beuke.
2011 Featured Food and Wine includes Chocolate Serenade, Current Café, and Wine on the Waterfront.
Engage with the artists directly at this special event produced by Burning Down the House Creative Collective that is a local group of art businesses dedicated to encouraging education, positive professionalism, and creating inclusive opportunities including the Opulent Art Show  and smARTies – Smart Art Instruction.